Ice Age: Collision Course
So many films from the genre are sprouting up like spring daisies that it's making the Oscar race for Best Animation Feature Film a nail-biter. And it's only midyear. Add to the list of strong contenders the fifth chapter in the Ice Age franchise, a doozy of a yarn that couples the creation of the planets with earth's impending doom by a runaway meteor. The far fetched story gives kids a crash course in astronomy and planetary science, while they follow the antics of their favorite prehistoric animals.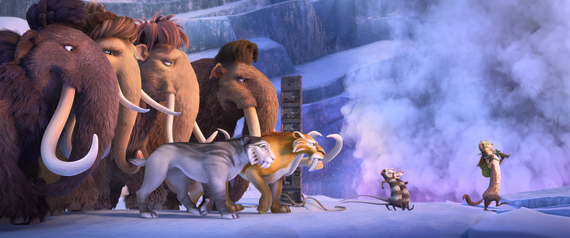 (Photo courtesy of Twentieth Century Fox)
Scenes on earth have a very soft, light color (Michael Knapp art director), but the sci-fi space sequences are dark and mysterious. The pacing (Erin Crackel and James Palumbo, editors) is slower on earth and manic in space. The musical score (John Debney, Oscar-nominated for The Passion of the Christ) is rarely less than fanciful. And the camerawork hits the right angles (Renato Falcão, Rio).
In Outer Space: Scrat (Chris Wedge), a dizzy saber-toothed squirrel, is at it again. He's trying to crack open his prized but never cooperative acorn. Somehow his mischievous antics find him on a flying saucer in outer space where his actions cause the creation of the planets, or something akin to the big bang. A byproduct of his accidental endeavors is that a meteor shower is headed towards earth. And one gigantic meteor in particular could devastate the world. Holy apocalypse!
On earth, as it is not in heaven: Manny (Ray Romano) a woolly mammoth who has led a ragtag group of animals during the Ice Age, is nervous about his daughter Peaches' (Keke Palmer, Madea's Family Reunion) impending marriage to Julian (Adam Devine, Mike and Dave Need Wedding Dates). Manny's mate Ellie (Queen Latifah) doesn't want the couple to move far away.
Meanwhile Sid (John Leguizamo), a slovenly ground sloth, has just been jilted by his girlfriend Francine (Melissa Rauch) and that brings up a whole host of abandonment issues. Then during Ellie and Manny's anniversary party, asteroids rain down on everyone like bombs and Manny leads the herd to a shelter in a deep cavern. Buck (Simon Pegg) a weasel (no insult intended), discovers a stone pillar with engravings that state that a previous asteroid storm had nearly wiped out the animal population. And according to his findings they must go to the previous site to find a way to avoid obliteration.
The very inventive script places a netherworld at the old meteor site called "Geotopia." This plot device allows the filmmakers to introduce a new locale and new characters like Shangri Llama (Jesse Tyler Ferguson, Modern Family) the utopia's leader and a love interest for Sid, a sloth named Brooke (Grammy nominated pop singer and former Britain's The Voice alumnus, Jessie J). It's love at first sight, at least for the head-over-heels Sid, who pines, "You're so beautiful you take my lisp away."
Time is ticking away: The animals have just 100 minutes to escape an earth-shattering demise. The young male mammoth and his skeptical future dad-in-law have to find common ground. Sid must court Brooke. Buck must evade a mean trio of high-flying dromaeosaur who he has pissed off. There's enough action to sustain the film. And although it is probably an individual viewer's choice, and maybe kids will feel differently, Scrat's annoying behavior gets old real fast and it's the animals on earth who are compelling and carry the movie.